ARTISS
For burn and face-lift patients where tissue approximation is critical to the healing process, ARTISS fibrin sealant provides advanced capabilities to adhere autologous skin grafts and tissue flaps to wound beds. The unique properties of ARTISS enable freedom and precision in the operating room.*1
See Indications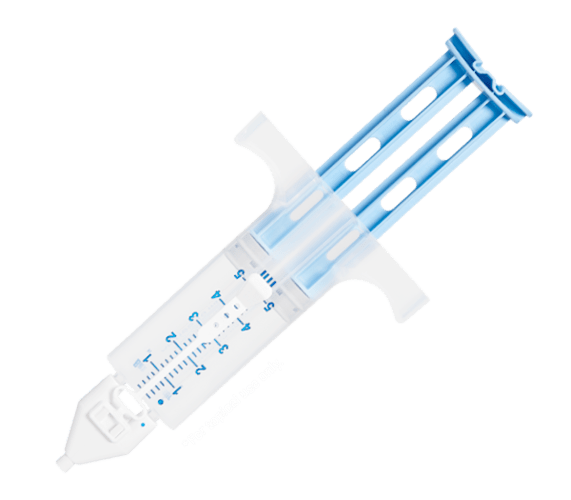 Proven Efficacy and Safety
As the first and only fibrin sealant custom designed for tissue adherence in plastic, reconstructive and burn surgery.2 ARTISS has been proven safe and effective in pivotal phase 3, multicenter, prospective, randomized clinical studies.3,4
Mechanism of Action
ARTISS is a two component fibrin sealant, consisting of human thrombin and human fibrinogen and an antifibrinolytic inhibitor to delay clot degradation.1
Upon mixing, soluble fibrinogen is transformed into a fibrin matrix that adheres to the wound surface and to the skin graft to be affixed.1
Initial polymerization of ARTISS will take up to 60 seconds; allowing time to manipulate and position the graft prior to polymerization.1
The adhesive properties of ARTISS provide full surface adherence of the graft to the wound bed, closing the space that exists when grafts are attached using point fixation techniques such as staples.3
ARTISS eliminates the need for staple application or removal.3
Additional Product Benefits
Significantly Reduced Drainage Volume
In facial rhytidectomy, drainage volume was reduced on average by 62%, when evaluated 24 hours (+/- 4h) post surgery, when ARTISS was used with the standard of care (SoC) vs. SoC alone (7.7 ± 7.4 mL vs 20.0 ± 11.3 mL (p < 0.0001), n=75).1
Effective for Complete Wound Closure
In burn surgeries, ARTISS has been demonstrated to be at least as efficacious as staples, with 43.3% of sites achieving full wound closure by day 28 compared to 37.0% for staples (p=0.2299).3
Flexible and Convenient
ARTISS allows up to 60 seconds to manipulate and position the tissue flap. In addition, it doesn't require any mixing or reconstitution, and it may be stored for 14 days unopened at room temperature (after removal from the freezer, and thawed at room temperature.)1
ARTISS [Fibrin Sealant (Human)] Indication
ARTISS is a fibrin sealant indicated to adhere autologous skin grafts to surgically prepared wound beds resulting from burns in adult and pediatric populations greater than or equal to 1 year of age. ARTISS is indicated to adhere tissue flaps during facial rhytidectomy surgery (face-lift).
ARTISS is not indicated as an adjunct to hemostasis
Important Risk Information for ARTISS
For Topical Use Only. Do not inject directly into the circulatory system or into highly vascularized tissue.  Intravascular application can result in life-threatening thromboembolic events and can increase the likelihood and severity of acute hypersensitivity reaction in susceptible patients. 
Do not use in individuals with a known hypersensitivity to aprotinin and/or hypersensitivity to any of the active substances or excipients of ARTISS.
Do not spray where the minimum recommended distance from the applicator tip to the target site cannot be assured.
Hypersensitivity reactions, including anaphylaxis, can occur. Should symptoms occur, discontinue and administer appropriate treatment. Such reactions may especially be seen if product is applied repeatedly over time or in the same setting, or if systemic aprotinin has been administered previously; however, these reactions may also occur in patients receiving ARTISS for the first time.
Aprotinin is known to be associated with anaphylactic reactions. Even in the case of strict local application of aprotinin, there is a risk of anaphylactic reactions to aprotinin, particularly in the case of previous exposure.
Discontinue administration in the event of hypersensitivity reactions.  Remove the already applied, polymerized product from the surgical field.
Life threatening/fatal air or gas embolism has occurred with the use of spray devices employing pressure regulator to administer fibrin sealants. This can occur if a spray device is used at higher than recommended pressures and in closer than recommended proximity to the tissue surface. To reduce the risk of potential life-threatening gas embolism, spray using only the appropriate pressurized gas at the recommended pressure (21.8-29.0 psi) and distance (10-15 cm).  Use the EASYSPRAY device, or an equivalent spray device cleared by FDA, connected to a Medical grade CO2, Compressed Air or Nitrogen. The risk appears to be higher when fibrin sealants are sprayed with air, as compared to CO2. Spray only onto visible application sites, not in enclosed body cavities.
ARTISS may denature when exposed to solutions containing alcohol, iodine or heavy metals. If these substances have been used to clean the wound area, the area should be thoroughly rinsed and dried before application of ARTISS.
ARTISS is made from human plasma, it may carry the risk of transmitting infectious agents, e.g., viruses, the variant Creutzfeldt-Jakob disease (vCJD) and theoretically, the classic Creutzfeldt-Jakob disease agent.
Adverse reactions reported in ≥ 1% of clinical trial subjects with the use of ARTISS were: Skin graft failure, hematoma and pruritus in burn studies, and hematoma/seroma in rhytidectomy studies.
Please see accompanying full Prescribing Information.