Spinal Surgery
Bleeding during spine surgery can significantly impair a surgeon's visual field and lead to increased operating room time. Baxter's portfolio of hemostat, sealant and tissue repair products reduce bleeding and increase access by supporting surgical teams who improve patient mobility and quality of life.
Key Procedures
Each spine procedure provides unique challenges that can cause complications for the healing process. Here are a few examples.
Anterior Cervical Discectomy and Fusion (ACDF)
In ACDF surgeries, hemostats minimize blood loss and help to ease surgical complexities. FLOSEAL, Baxter's flowable hemostat, provides effective, fast hemostasis (2 min median time to hemostasis)1 to improve visibility and overall outcomes2.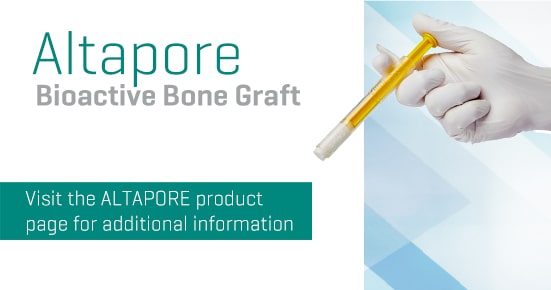 Posterolateral Spinal Fusion (PLF)
During this common spine procedure, surgical teams rely on hemostats and orthobiologics to manage blood loss and promote bone growth. ALTAPORE, Baxter's bioactive bone graft substitute, offers enhanced porosity and performance to achieve optimal fusion rates3,4,5*.
*Preclinical data. Results may not correlate to performance in humans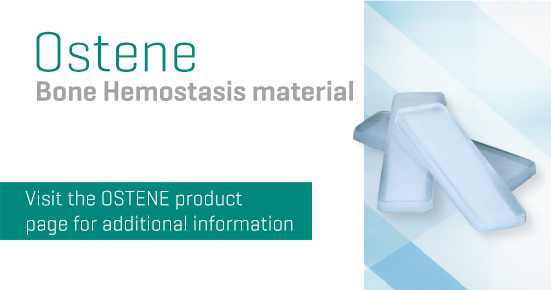 Transforaminal Interbody Fusion (TLIF)
In another common spine surgery, Baxter's bone hemostasis material, OSTENE, provides immediate bone hemostasis. This water-soluble polymer does not require removal and dissolves within 48 hours. It can be used on all bleeding bone surfaces, including areas where bone fusion is critical6,7,8,9*.
*Preclinical data. Results may not correlate to performance in humans
Indications and Important Risk Information
---
FLOSEAL Hemostatic Matrix Indication
FLOSEAL Matrix is indicated in surgical procedures (other than ophthalmic) as an adjunct to hemostasis when control of bleeding by ligature or conventional procedures is ineffective or impractical.
Full important risk information
Do not inject or compress FLOSEAL Matrix into blood vessels. Do not apply FLOSEAL Matrix in the absence of active blood flow, e.g., while the vessel is clamped or bypassed, as extensive intravascular clotting and even death may result.
Do not use FLOSEAL Matrix in patients with known allergies to materials of bovine origin. Do not use FLOSEAL Matrix in the closure of skin incisions because it may interfere with the healing of the skin edges.
FLOSEAL Matrix contains Thrombin made from human plasma. It may carry a risk of transmitting infectious agents, e.g., viruses, and theoretically, the Creutzfeldt-Jakob disease (CJD) agent.
FLOSEAL Matrix is not intended as a substitute for meticulous surgical technique and the proper application of ligatures or other conventional procedures for hemostasis.
Excess FLOSEAL Matrix (material not incorporated in the hemostatic clot) should always be removed by gentle irrigation from the site of application.
FLOSEAL Matrix swells by approximately 10% to 20% after product is applied. Maximum swell volume is achieved within about 10 minutes.
The safety and effectiveness of FLOSEAL Matrix has not been established in children under 2 years of age and pregnant women.
Do not use air to remove residual FLOSEAL Matrix from Applicator tip. The Applicator tips should not be cut. Do not use FLOSEAL Matrix on bone surfaces where adhesives, such as methylmethacrylate or other acrylic adhesives, will be required to attach a prosthetic device.
Rx Only. For safe and proper use of this device, refer to the full Instructions for Use.
FLOSEAL Full Instructions for Use:
---
INDICATIONS FOR USE
ALTAPORE is an implant intended to fill bony voids or gaps of the skeletal system (i.e., extremities, pelvis and posterolateral spine) and may be used with autograft as a bone graft extender or bone marrow aspirate. These osseous defects are surgically created or the result of traumatic injury to the bone and are not intrinsic to the stability of the bony structure.
ALTAPORE resorbs and is replaced with bone during the healing process.
IMPORTANT RISK INFORMATION
ALTAPORE is contraindicated where the device is intended as structural/load-bearing support in the skeletal system. ALTAPORE has not been cleared for use in vertebroplasty. Attempts should not be made to modify the size of the granules or to change their shape. It is important to maximize contact between existing bone and the implant to ensure proper bone regeneration.
The effect of mixing ALTAPORE Bioactive Bone Graft with substances other than bone marrow aspirate or autologous bone is unknown.
Rx Only. For safe and proper use please refer to full device Instructions for Use for Contraindications, Warnings, and Precautions.
ALTAPORE Full Instructions for Use
---
OSTENE [Bone Hemostasis Material] Indication
OSTENE Bone Hemostasis Material is indicated for use as a water-soluble implant material and for use in the control of bleeding from bone surfaces. OSTENE Bone Hemostasis should be warmed to desired consistency using aseptic techniques.
Important Risk Information for OSTENE Bone Hemostasis Material
Do not use OSTENE Bone Hemostasis Material in sites with active or latent infections. OSTENE Bone Hemostasis Material is not intended for use in lending structural support to bone.
OSTENE Bone Hemostasis Material is provided sterile for single use only. DO NOT RESTERILIZE. Discard any open, unused, or damaged packages. DO NOT USE if there is a loss of sterility of the device. OSTENE Bone Hemostasis Material should not be subjected to excess heat. Store at room temperature away from direct heat, including sunlight.
Rx Only: For safe and proper use of this device please refer to full device instructions for use.
OSTENE Full Instructions for Use: