COSEAL
As the go-to synthetic sealant, surgeons rely on COSEAL Surgical Sealant during many types of vascular reconstructions. COSEAL provides a rapid seal at the suture line, protecting a surgeon's work during the critical postoperative period and allowing the body time to complete its natural wound healing process.1,2
See Indications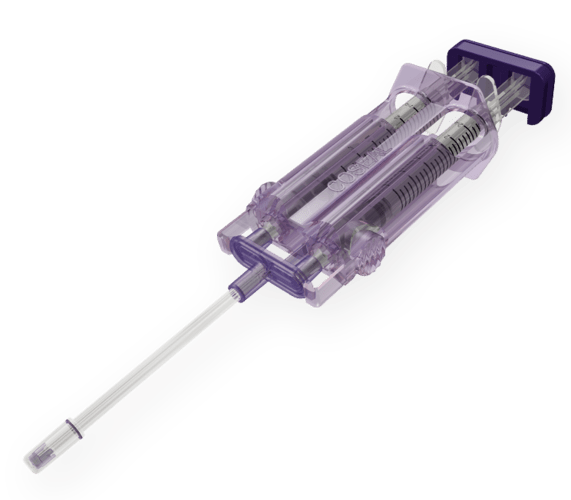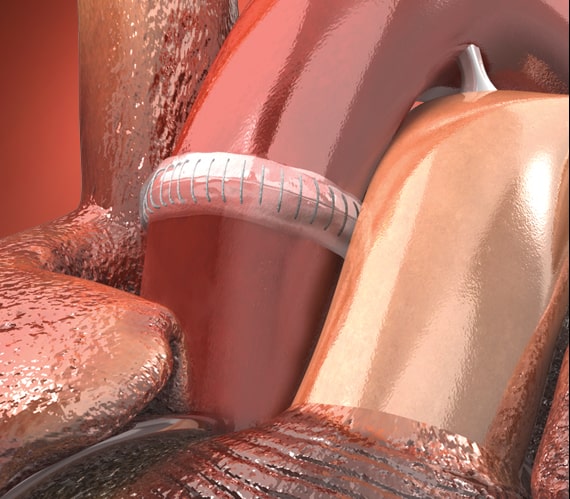 Strong When You Need It
COSEAL can withstand postoperative spikes over 5x normal systolic pressure at up to 660 [+/- 150] mmHg, it remains at application site for 7 days and is resorbed in 30 days.2,3*
*Preclinical data. Results may not correlate to performance in humans.
Mechanism of Action
COSEAL is composed of two biocompatible polyethylene glycols that combine with dilute hydrogen chloride solution to rapidly form a covalently bonded hydrogel and adhere to both tissue and synthetic graft materials. Learn more about how COSEAL works.1
COSEAL Surgical Sealant: The Clear Choice
COSEAL Surgical Sealant has helped achieve adjunct hemostasis for the past 20 years. Hear from Joseph Bavaria, MD on his clinical experience.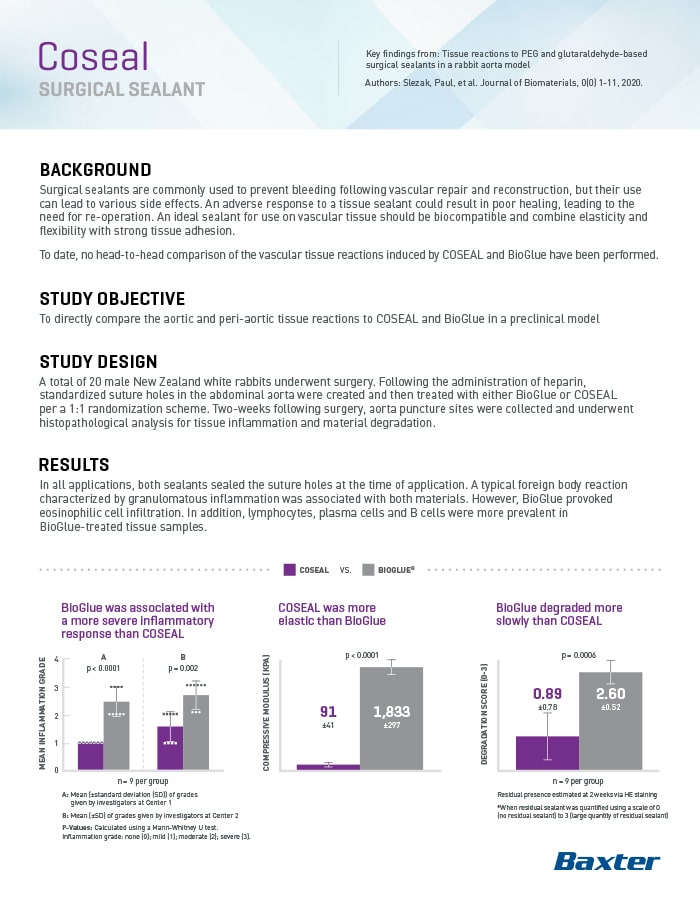 Recent pre-clinical study on surgical sealants compares tissue reactions
Surgical sealants are commonly used to prevent bleeding following vascular repair and reconstruction, but an adverse response to a tissue sealant could result in poor healing, leading to the need for re-operation. A study published in early 2020 directly compared the aortic and peri-aortic tissue reactions to COSEAL Surgical Sealant and BioGlue Surgical Adhesive in a preclinical model.4*  
*Pre-clinical data. Results may vary in humans.
COSEAL Surgical Sealant in Action
COSEAL can be dripped or sprayed, for both focal and broad application options. Watch the videos to see both spray and drip applications
Additional Product Benefits
Independent of the Coagulation Cascade
COSEAL works independent of the coagulation cascade, forming a direct mechanical barrier to blood flow regardless of the patient's coagulation status.2,5
Flexible and Easy to Use
The thin, translucent, motion-response seal supports natural vascular dilation and can be sutured through, while allowing for visibility at the suture line.6
Cost Savings and Fewer Complications
In a retrospective study of 102 aortic Bentall procedures, using COSEAL as a suture line reinforcement contributed to fewer complications with significant cost savings.5
COSEAL [Surgical Sealant] Indications
COSEAL is indicated for use in vascular reconstructions to achieve adjunctive hemostasis by mechanically sealing areas of leakage.
Important Risk Information for COSEAL
COSEAL is not to be used in place of sutures, staples, or mechanical closure.
COSEAL swells up to four times its volume within 24 hours of application and additional swelling occurs as the gel resorbs. Therefore, surgeons should consider the maximum swell volume and its possible effect on surrounding anatomic structures potentially sensitive to compression.
Apply only as a thin layer.
Use caution when applying with pressurized gas.
Do not place devices or other objects on top of tissue where COSEAL has been applied, until the material is fully polymerized (non-tacky).
Do not apply COSEAL over any devices or objects that will need to be removed. COSEAL must not be used as a mechanism of adherence, even temporarily, for any object.
Do not inject COSEAL into vessels.
In vivo testing demonstrated a mild skin sensitization response in an animal model. Similar testing in humans has not been conducted.
Rx only: For safe and proper use of this device, please refer to full device Instructions for Use.