FLOSEAL
From routine to unexpected bleeds, surgeons around the world trust FLOSEAL hemostatic matrix to stop various bleeding grades. FLOSEAL's superior performance and range of applicator tips provide precise delivery to promote healing at the site of surgery.1
See Indications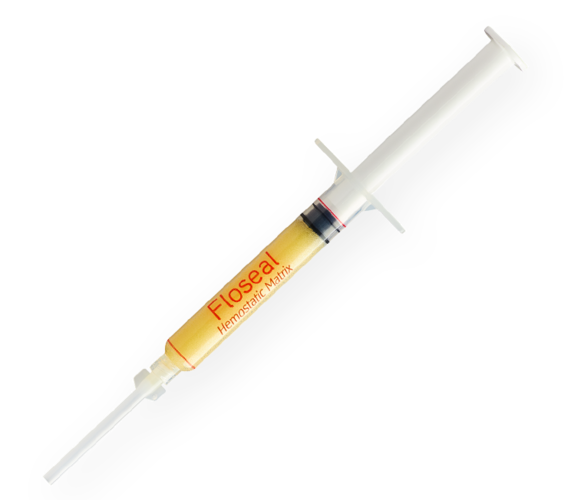 The Next Generation: FLOSEAL with RECOTHROM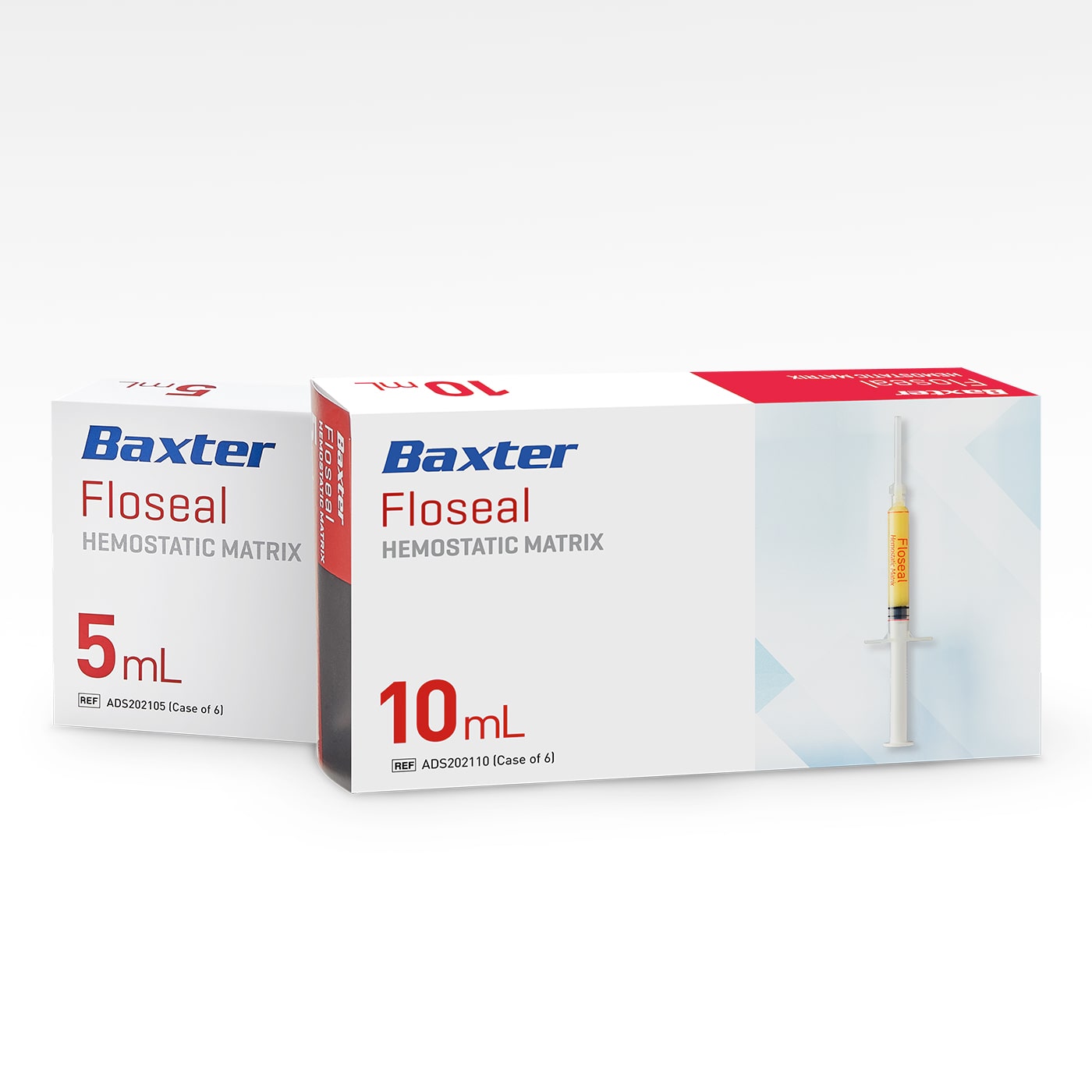 Unmatched speed. Reliable hemostasis.
The FIRST AND ONLY active flowable hemostat kitted with recombinant thrombin2
Faster Preparation — More than 1.5x faster prep time compared to Surgiflo2
Easy Preparation — Compared to Surgiflo, FLOSEAL with RECOTHROM was rated easier to prepare with less steps2
Most preferred product configuration (compared to FLOSEAL with human thrombin and Surgiflo)2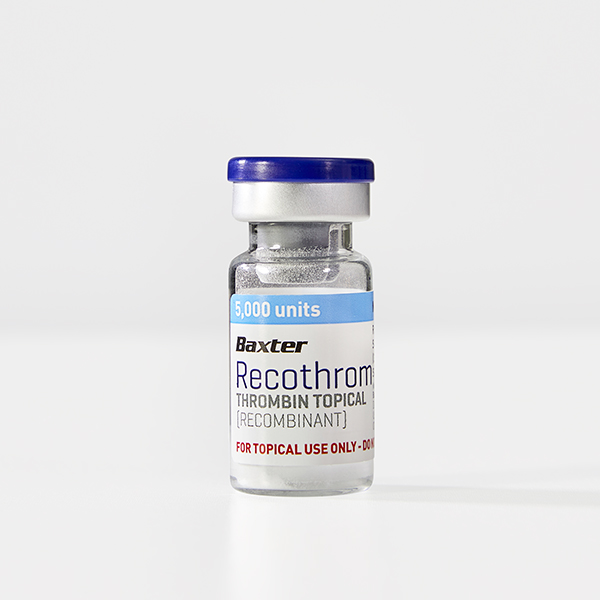 RECOTHROM is manufactured in the laboratory setting using recombinant DNA technology to provide the following benefits:1
No human blood components1
Structurally similar to naturally occurring human thrombin1
Eliminates reliance on human blood donations to source thrombin1
Choose Better Outcomes. Choose FLOSEAL.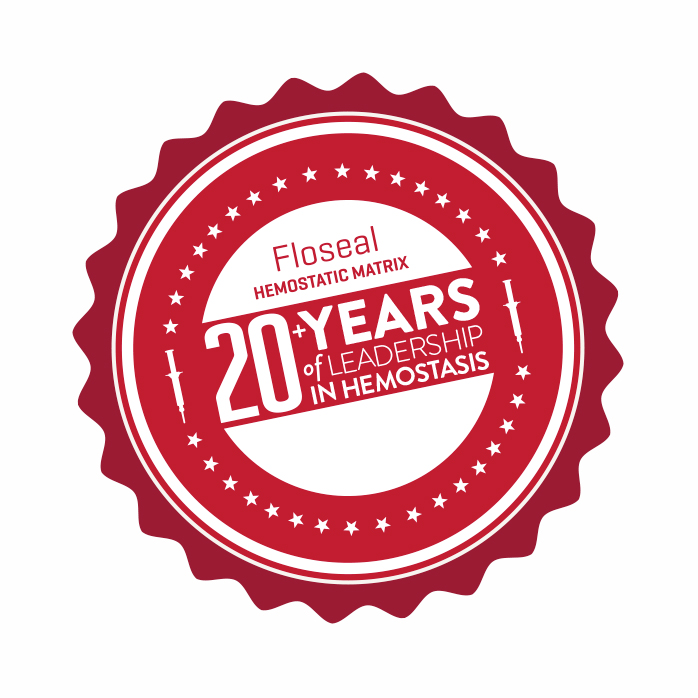 Inadequate surgical hemostasis and uncontrolled bleeding may lead to transfusion and/or other bleeding-related complications,3 lower clinical outcomes and higher hospital costs.4
For the last 20+ years, FLOSEAL Hemostatic Matrix has been shown to result in better clinical and hospital resource utilization outcomes.5
Take an Active Approach to Hemostasis
FLOSEAL consists of a unique combination of patented gelatin granules and human thrombin to provide fast (2 min median time to hemostasis),1 effective hemostasis. Learn more about how FLOSEAL works.
Additional Product Benefits
The Leader in Hemostasis
For certain surgical procedures, use of FLOSEAL Hemostatic Matrix is associated with shorter length of surgery,6 fewer intensive care unit days,7 significantly lower risks of minor complications, blood transfusions and surgical revisions.6
Consistent Performance
FLOSEAL has been proven to perform fast and consistently across a range of bleeds.8*
*Based on pre-clinical data.
Health Economic Benefits
The use of FLOSEAL can result in improved Resource Utilization Outcomes and substantial Cost Savings for hospitals – up to $1.5M per year for a hospital performing 245 mixed cardiac surgical procedures per year9 and $2,445 per spine procedure.10
FLOSEAL in Action
Learn from leading orthopedic spine surgeons why they choose FLOSEAL for hemostasis
FLOSEAL Hemostatic Matrix Indication 
FLOSEAL Matrix is indicated in surgical procedures (other than ophthalmic) as an adjunct to hemostasis when control of bleeding by ligature or conventional procedures is ineffective or impractical. 
Important Risk Information 
Do not inject intravascularly.
Do not inject or compress FLOSEAL Matrix into blood vessels. 
Do not apply FLOSEAL Matrix in the absence of active blood flow, e.g., while the vessel is clamped or bypassed, as extensive intravascular clotting and even death may result.
Do not use FLOSEAL Matrix in patients with known allergies to materials of bovine origin. 
Do not administer to patients with a history of hypersensitivity to RECOTHROM thrombin, any components of RECOTHROM, or hamster proteins. Hypersensitivity reactions, including anaphylaxis, may occur. RECOTHROM thrombin is produced in a genetically modified Chinese Hamster Ovary (CHO) cell line and may contain hamster or snake proteins. 
Antibody formation to RECOTHROM occurred in <1% of patients. None of the antibodies detected neutralized native human thrombin. 
Thrombin must be added to the Gelatin Matrix prior to use.
Do not use FLOSEAL Matrix in the closure of skin incisions because it may interfere with the healing of the skin edges. 
FLOSEAL Matrix is not intended as a substitute for meticulous surgical technique and the proper application of ligatures or other conventional procedures for hemostasis. 
FLOSEAL Matrix should not be used for the primary treatment of coagulation disorders.
The safety and effectiveness for use in neurological and urological procedures has not been established through randomized clinical studies.
Excess FLOSEAL Matrix (material not incorporated in the hemostatic clot) should always be removed by gentle irrigation from the site of application. 
The particles of FLOSEAL Matrix swell approximately 10-20% upon contact with blood or other fluids creating a tamponade effect. Maximum swell volume is achieved within about 10 minutes. 
It is not known whether FLOSEAL Matrix can cause fetal harm when administered to a pregnant woman or can affect reproduction capacity. FLOSEAL Matrix should be administered to a pregnant woman only if clearly needed.
The safety and effectiveness of the combined use of FLOSEAL Matrix with antibiotic solutions or powders has not been established. 
Do not use air to remove residual FLOSEAL Matrix from Applicator tip. The Applicator tips should not be cut, as tissue injury from sharp edges may result. 
Do not use FLOSEAL Matrix on bone surfaces where adhesives, such as methylmethacrylate or other acrylic adhesives, will be required to attach a prosthetic device.
As with other hemostatic agents, do not apply FLOSEAL Matrix to sites where there is negative peripheral venous pressure (e.g. due to patient positioning), as material may be drawn into the vascular system potentially resulting in life-threatening thromboembolic events.
Rx Only. For safe and proper use of this device, refer to the full Instructions for Use.
Instructions for Use: