FLOSEAL
From routine to unexpected bleeds, surgeons around the world trust FLOSEAL hemostatic matrix to stop various bleeding grades. FLOSEAL's superior performance and range of applicator tips provide precise delivery to promote healing at the site of surgery.
See Indications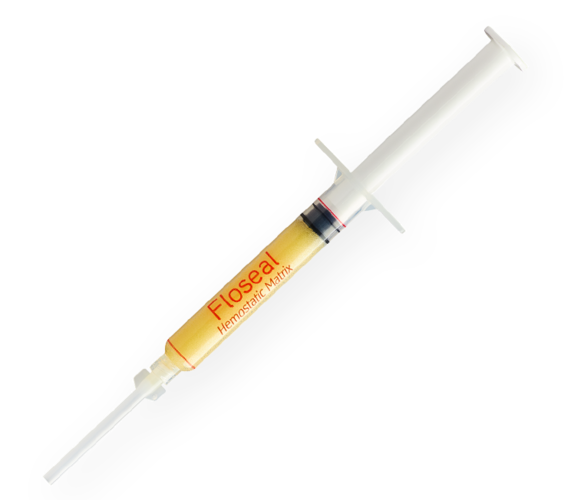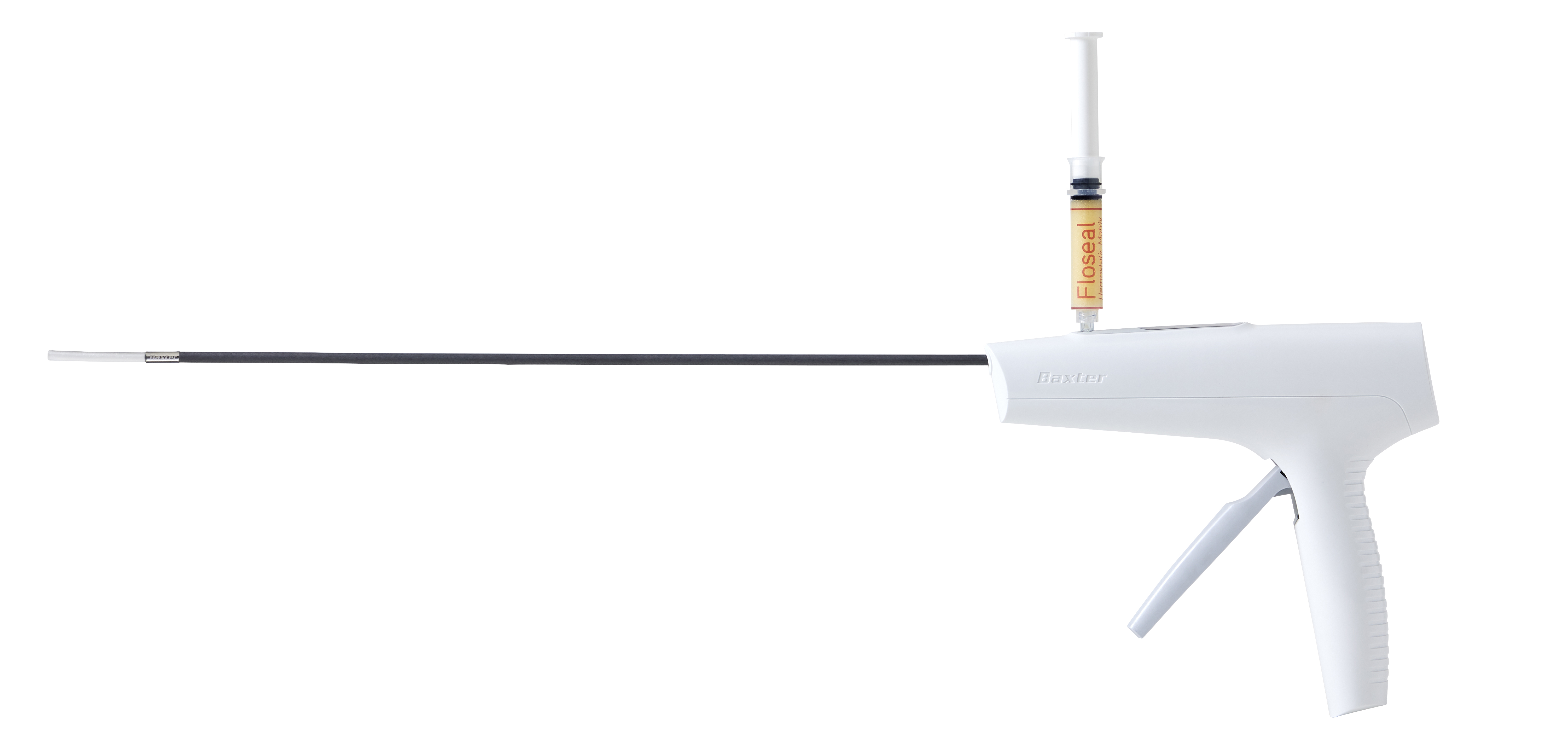 Introducing EASYGRIP FLO-41
One-handed application: Ergonomic handle enables one-handed application, promoting ease of use
Enhanced control: The Easy-to-Grip trigger is engineered to deliver a controlled amount of hemostatic matrix1
Targeted Delivery: Malleable tip enables precise hemostat delivery into small, difficult to reach surgical sites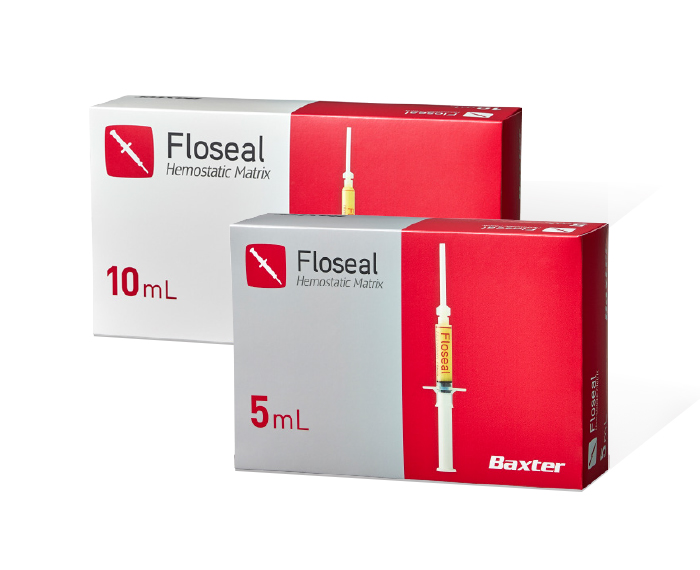 The Next Generation of FLOSEAL
Faster Preparation - 15% faster preparation time compared to SURGIFLO2
Easier Reconstitution - 20% less components* and 20% less preparation steps compared to FLOSEAL Full Sterile Prep3,4
Most Preferred Configuration - Ranked #1 by Operating Room Registered Nurses2
*Based on preparation components only.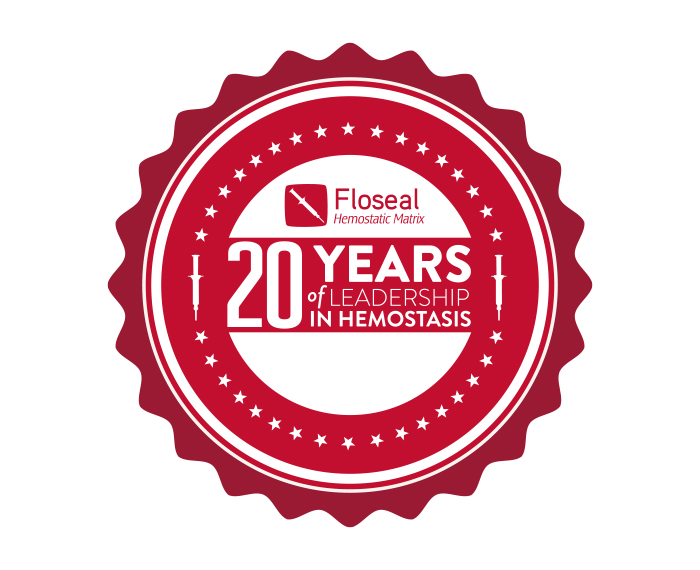 Choose Better Outcomes. Choose FLOSEAL.
Inadequate surgical hemostasis and uncontrolled bleeding may lead to transfusion and/or other bleeding-related complications5, lower clinical outcomes and higher hospital costs6.
During the last 20 years, FLOSEAL Hemostatic Matrix has been shown to result in better clinical and hospital resource utilization outcomes7.
Take an Active Approach to Hemostasis
FLOSEAL consists of a unique combination of patented gelatin granules and human thrombin to provide fast (2 min median time to hemostasis3), effective hemostasis. Learn more about how FLOSEAL works.
Additional Product Benefits
The Leader in Hemostasis
For certain surgical procedures, use of FLOSEAL Hemostatic Matrix is associated with shorter length of surgery8, fewer intensive care unit days9, significantly lower risks of minor complications, blood transfusions and surgical revisions8.
Consistent Performance
FLOSEAL has been proven to perform fast and consistently across a range of bleeds10*.
*Based on pre-clinical data.
Health Economic Benefits
The use of FLOSEAL can result in improved Resource Utilization Outcomes and substantial Cost Savings for hospitals – up to $1.5M per year for a hospital performing 245 mixed cardiac surgical procedures per year11 and $2,445 per spine procedure12.
FLOSEAL in Action
Learn from leading orthopedic spine surgeons why they choose FLOSEAL for hemostasis
FLOSEAL Hemostatic Matrix Indication
FLOSEAL Matrix is indicated in surgical procedures (other than ophthalmic) as an adjunct to hemostasis when control of bleeding by ligature or conventional procedures is ineffective or impractical.
Full important risk information
Do not inject or compress FLOSEAL Matrix into blood vessels. Do not apply FLOSEAL Matrix in the absence of active blood flow, e.g., while the vessel is clamped or bypassed, as extensive intravascular clotting and even death may result.
Do not use FLOSEAL Matrix in patients with known allergies to materials of bovine origin. Do not use FLOSEAL Matrix in the closure of skin incisions because it may interfere with the healing of the skin edges.
FLOSEAL Matrix contains Thrombin made from human plasma. It may carry a risk of transmitting infectious agents, e.g., viruses, and theoretically, the Creutzfeldt-Jakob disease (CJD) agent.
FLOSEAL Matrix is not intended as a substitute for meticulous surgical technique and the proper application of ligatures or other conventional procedures for hemostasis.
Excess FLOSEAL Matrix (material not incorporated in the hemostatic clot) should always be removed by gentle irrigation from the site of application.
FLOSEAL Matrix swells by approximately 10% to 20% after product is applied. Maximum swell volume is achieved within about 10 minutes.
The safety and effectiveness of FLOSEAL Matrix has not been established in children under 2 years of age and pregnant women.
Do not use air to remove residual FLOSEAL Matrix from Applicator tip. The Applicator tips should not be cut. Do not use FLOSEAL Matrix on bone surfaces where adhesives, such as methylmethacrylate or other acrylic adhesives, will be required to attach a prosthetic device.
Rx Only. For safe and proper use of this device, refer to the full Instructions for Use.
EASYGRIP FLO-41 Indication
The EASYGRIP FLO-41 Precision MIS Delivery System is indicated for delivering compatible hemostatic agents to bleeding sites through a 5 mm or larger trocar.
Important Risk Information for EASYGRIP FLO-41
Single use only. Do not reuse. Do not resterilize. Reuse or reprocessing of a single use device may lead to contamination and compromised device function or structural integrity.
For a complete list of warnings, please refer to the IFU.
Instructions for Use: